This article is about EV charging stations in strata high rise and apartment buildings.
Table of Contents:
Principal Scheme Committee Decision Leads to Death by Electrocution in Strata
This recount has been submitted by a QLD lot owner with concerns about the way EV adoption has been managed in their building.
Not the perfect news headline to appreciate the value of any strata community, however, these may well be the words a Coroner determines appropriate to describe a terribly tragic circumstance in the event it happens.
A Brisbane Principal Scheme Committee has authorised owners to charge their electric vehicles using an untagged tested power lead laying on the floor of a large strata communities parking garage while options are explored to have common EV charges installed.
The QLD Electrical Safety Act [ESA] is directed at eliminating the human cost to individuals, families and the community of death, injury and destruction that can be caused by electricity.
On 26 February 2022, the retail level car park sprinklers of this complex triggered when a vehicle [not an EV] erupted into flames, resulting in a substantial amount of water pouring into the underground basement car park.
Car Park fires happen and although they can be a rare occurrence, this is undoubtedly why the installation of fire safety sprinklers is mandated.
The following photos of our car parking area says it all.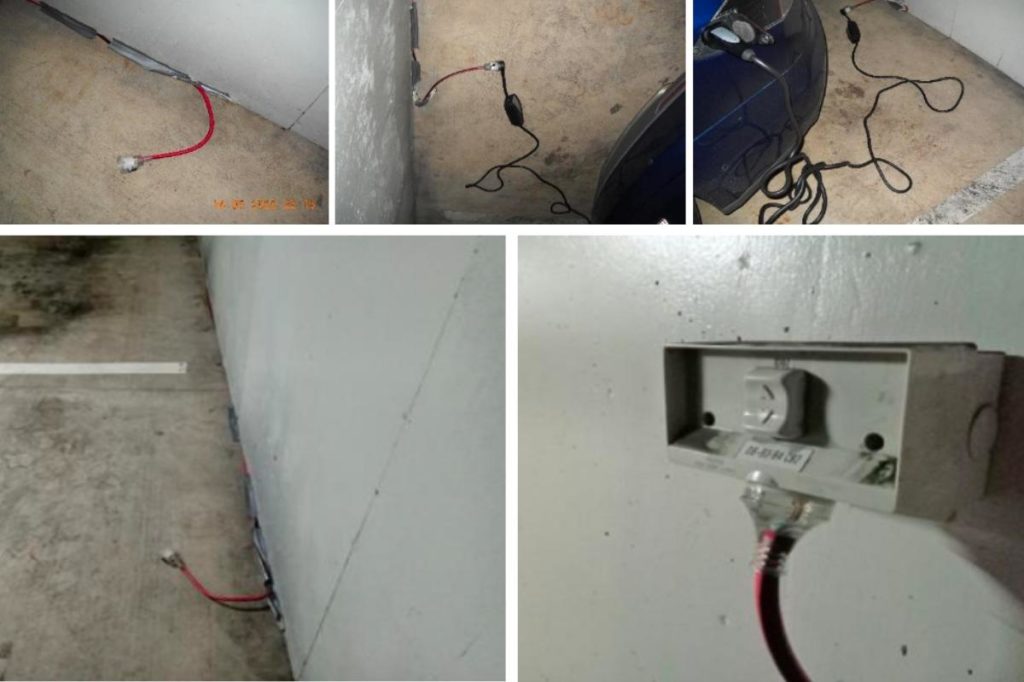 This post appears in Strata News #579.
Question: Is there any indication that Body Corporate insurance will increase due to EV fire danger in strata car parks?
Answer: Currently insurers are not charging extra premium for increased fire danger due to electrical vehicles in car parks.
Currently insurers are not charging extra premium for increased fire danger due to electrical vehicles in car parks.
We suspect this may happen if there is a major event due to the vehicles. This could cause insurers to review their premiums and underwriting criteria.
Tyrone Shandiman
Strata Insurance Solutions
E: [email protected]
P: 07 3899 5129
This information is of a general nature only and neither represents nor is intended to be personal advice on any particular matter. Shandit Pty Ltd T/as Strata Insurance Solutions strongly suggests that no person should act specifically on the basis of the information in this document, but should obtain appropriate professional advice based on their own personal circumstances. Shandit Pty Ltd T/As Strata Insurance Solutions is a Corporate Authorised Representative (No. 404246) of Insurance Advisenent Australia AFSL No 240549, ABN 15 003 886 687.
This post appears in Strata News #559.
Question: We are investigating EV charging and solar for our building. What is the best way to structure the installation of infrastructure to come up with a cost effective solution?
I am an owner in a strata that is billed for electricity via Altogether Solutions operating under the 'Exemption Scheme'. We are investigating EV charging but have realised there is a lot more to this exercise e.g. smart load management.
Could Altogether Solutions (AS) setup something along the lines of a financial Special Purpose Vehicle (SPV) to finance, pay interest and recover the costs of upgrading our building infrastructure to prepare for electric vehicle charging and solar in our building?
Answer: It's best to work out what's the lowest cost structure to put in place, depending on the community.
There are no types of arrangements that we don't consider. We absolutely would want to work with a client that's looking for an EV or solar type solution to help them find a solution that is tailor suited to that body corporate. An SPV is a very specific type of arrangement, and it may be the most cost effective arrangement but what we will always look to do is to work out what's the lowest cost structure to put in place depending on the community.
Typically, the main input drivers to things like cost of installing EV infrastructure and existing buildings are really the building size. How many EV chargers they want, the existing infrastructure installation, whether that needs to be upgraded or not and of course, how big the carpark is. You can't run an extension lead out, you've got to instal this additional infrastructure. So, it is dependant on the number of lots that are available. It is dependant on how many EV chargers they want, and dependant on what the current infrastructure is. That will dictate the cost. Once we know what the cost is, and as every site is very, very unique, we can work on some type of funding arrangement.
What we typically look to do is fund the infrastructure ourselves, but not through an SPV. What we would look to do is say you've got your electricity rates. There's a delta between what the market is charging and what the cost is in an embedded network. We always aim to make sure the customer is getting the best possible deal and far lower than what they can get on the on the market. If we can take an amount of that delta, it could be a relatively small amount, and spread that over a period of time, essentially that can be used to fund these infrastructure upgrades.
The reason that's attractive to body corporates is because it means they don't have to raise special levies. We will fund it, and we'll recover that cost over a term from the users themselves. It's always a user pays system. That's always advantageous because user pays always gives you far more efficient outcomes. When the users paying for their infrastructure, there will always use that infrastructure far more wisely. If the body corporate or an investor or owner, or a special levy has to be raised to pay for infrastructure, people's usage tends to be a little bit more ad hoc, so you don't always get the best commercial outcome.
Drew McKillican
Altogether Group
E: [email protected]
P: 1300 806 806
This post appears in the March 2021 edition of The QLD Strata Magazine.
Question: I believe our high rise should be getting ahead of the EV charging curve. We have questions regarding EV charging and EV parking.
Our complex is a 21 unit high rise like many others with single-storey car parking below the building. I believe we should be trying to get ahead of the EV charging curve and have questions regarding EV charging and EV parking.
With the danger of battery fires associated with electric vehicles, can EV's be banned by BC Committee from parking in the car park.
If the BC allows EV's to park and recharge in the car park, does the BC pay for the engineering review to advise size of allowable charger outlets for every unit. I believe we must supply all units if we supply one, and if so, would the BC be responsible for the 'skeleton' ducting and distribution board, and each owner responsible for the cost of the electrical installation.
Could a couple of open area visitor's car parks be converted, (with council approval~ we have 8 visitor spots for 21 units), to be serviced by a commercial provider for EV charger bays for EV owners.
Answer: As many BC's are shifting towards investment in renewables and a net zero future, as part of this journey we must ensure our buildings can accommodate EV charging into the future.
Should Body Corporate be Concerned About EV Battery Fires in Car Parks?
Whilst the exact data is quite early on this hot topic, recent studies into the North American market by Tesla, and based on the data from the National Fire Protection Association – have found EV's 11 times less likely to catch fire compared to petrol (ICE) cars.
Given the popularity with the EV revolution as the new kid on the block, any incident involving EV's grab a lot of attention and is often exaggerated and scrutinised heavily in the media. Whilst there have been EV fires, there are also petrol car fires every day of the week, yet we hear very little in the media about these. It's also worth noting that battery technology with EV's is in a constant state of evolution and new battery chemistry is seeing an enormous reduction in volatile compounds used.
Therefore, with reference to the risk in car parks, EV's in fact pose a lower risk when one may consider for many years we have parked petrol cars, have diesel backup generators and have on site large electrical transformers often oil filled or featuring volatile components.
Banning EV's from basement car parks would see – in time – virtually all vehicles parked out in the street without the right to their own car park or charging facilities.
Who pays for the engineering review to advise size of allowable charger outlets for each unit?
The key here is a strategic pathway that clearly outlines responsibilities of the BC and that of the apartment owner. This is created by an independent assessment relevant to your complex.
For example, many (most) strata's it is often impractical to run an EV charger off their own apartment power supply or meter due to physical distance, or not enough power capacity is available. This also means that all the EV chargers cannot be optimised to be managed as a group and take advantage of benefits like cheaper tariff's, on site renewables, consistent billing and a unified maintenance program etc
The best way for a strata to manage EV charging is engaging a holistic strategy by an EV infrastructure specialist. This identifies the BC responsibilities for ensuring the building common power supply and ultimately it's backbone of switchboards, distribution boards, cable containment pathways and a crucial EV energy management system is put in place to enable 100% of residents of access to EV charging. This ensures fairness across all owners and futureproofs the building and maps out an easy regimented process (or by-law) for the adoption of EV chargers by residents.
The apartment owner then is responsible for purchasing a pre-defined EV charging package set by the BC which often includes the charger, circuit protection and the electrical works to run it back to the EV distribution board. The resident or BC may also be responsible for the ongoing operational software fees associated with the system administration or billing. Size and model of EV charger must be compatible and appropriate for the power supply, management system and billing platforms installed in the building.
BC's should be forward planning now to provide the required upgrades to their sites and carving a policy to avoid ad-hoc procurement of EV chargers by residents. If residents are left to do their own thing, put simply the building infrastructure will not cope when EV adoption increases.
Converting visitor car parks to EV charger bays
This is possible, and companies such as Chargefox and JET Charge can provide this shared charging service, which is a common starting point for many BC's if they can afford the space. However, it is a short-term measure that ultimately will give away to residents demanding their own charger in their own car bay due to aspects such as running out of space when more cars are EV's, security concerns and the consumption of visitor bays. If you invested in a brand-new shiny EV, would you be happy parking your car overnight, every night, in a public shared space to charge up – as opposed to your own personal secured car bay?
The EV revolution is a generational change with many new learnings associated with ownership and how we manage the uptake in our homes and businesses. It's important to understand how EV drivers charge their vehicle too which is more akin to a mobile phone being topped up regularly, compared to a petrol car where it's a once a week thing, so regular access to a charger is important.
What we do know however is this is happening, faster than we think and that 90% of all EV charging in Australian cities will happen at home overnight or at work during the day.
As many BC's are doing with solar and shifting towards investment in renewables and a net zero future, part of this journey is we must ensure our buildings can accommodate EV charging into the future.
Mark Jeisman
JET Charge
E: [email protected]
P: 1300 856 328
This post appears in Strata News #533.
Have a question or something to add to the article? Leave a comment below.
Read next:
Visit our FactSheet: Apartment Living Sustainability OR Strata Legislation QLD.
After a free PDF of this article? Log into your existing LookUpStrata Account to download the printable file. Not a member? Simple – join for free on our Registration page.