Check your states tab for the latest information about Strata Building Defects. New information and links are added regularly. Be sure to check back to be kept up-to-date.
If you have enjoyed this topic page, discover more great information in our other Strata Topics covered.
Strata Building Defects Feature Articles
Paul Evans, President – Australian Institute of Waterproofing (AIW)
Why is my balcony leaking? This article looks at reasons your balcony may be leaking and some successful remedial waterproofing systems to solve your leaking balcony problems.
Allison Benson, Kerin Benson Lawyers
The cause of the building defects crisis is multifaceted. Why building defects are important is much simpler. It comes down to demographics.
Most Recent Strata Building Defects Articles
Cracking Up: Investigating Australia's apartment building crisis | Four Corners – Aug, 2019
NSW to crack down on dodgy high-rise developers: 2GB873AM – The Ray Hadley Morning Show interviews David Chandler, NSW Building Commissioner – Jan, 2020
Check your State's tab for articles and information about Strata Building Defects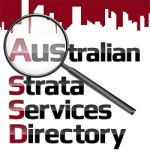 Looking for Strata Industry Experts who deal with building defects in your area, including maintenance and legislation matters? Search within THE Strata Services Directory for the best list of contacts available.
Interested in being included in the Directory? Create your Directory Listing here.