This article is about the implications of rising inflation for Australian Strata Schemes.
Table of Contents:
Question: Should committees be ensuring that their 10 year plans reflect the current surge in the price of building related materials and labour?
Given the recent spike in inflation (CPI) at a national level, combined with the immense surge in the price of building related materials and labour, should committees be ensuring that their 10 year plans reflect these increases?
How often should a committee focus on getting their 10 year maintenance plans revised?
Answer: Anyone who had a maintenance plan or sinking fund completed prior to covid should most definitely get this updated to reflect the current cost of completing maintenance.
The general consensus amongst government bodies and industry experts is every 3 -5 years. The reason being is that the cost of materials and processes can change quite drastically. We have had numerous instances where our painting contractor colleagues advise a quote done a year ago is now a few hundred thousand dollars more.
What we would also strongly emphasis and that we are in the middle of investigating (with an article hopefully to come out in coming weeks) is the significant impact Covid has had on construction and materials. Anyone who had a maintenance plan or sinking fund completed prior to covid should most definitely get this updated to reflect the current cost of completing maintenance. Whilst he effects of covid may not last for the next few years you must ensure that you have the right amount of money in your fund allocated for these expenses.
Admin Update: The article referred to by Dakota above is now available and can be accessed and downloaded here: Your Strata Could Be Under-Insured Without Even Realising.
Dakota Panetta
Solutions in Engineering
E: [email protected]
P: 1300 136 036
This post appears in Strata News #566.
Question: Due to rising costs and to avoid inflation, should we act sooner rather than later to get the building repainted? We've estimated this should be done sometime in the next year or 2.
Answer: Inflation may result in a much higher job cost in future years.
The effects of the Covid Pandemic are certainly being seen within the construction industry with incredible cost escalations occurring and even more significant the delay in labour and trades. Given that in Australia, more than 80% of our paint is made locally (according to the APMF 2020) costs of the actual material have not yet skyrocketed but the constraints on the labour force will be your biggest challenge.
We know that most painters/ painting firms are booked solidly for the next 18 months given the increased demand for construction and the labour shortage.
If you are able to secure a painting contract to paint your building, it would be advisable to complete this sooner rather than later as inflation may result in a much higher job cost in future years. These increases will not necessarily be due to the cost of the paint but also the painter's cost of doing business: ladders, scaffolding, brushes, paint tins, work vehicles, fuel (all currently being affected by the global supply logistics) all of which will be passed onto the end customer.
Dakota Panetta
Solutions in Engineering
E: [email protected]
P: 1300 136 036
This post appears in Strata News #564.
ARTICLE: Rising Inflation Issues for Australian Strata Schemes
The Reserve Bank of Australia has sat for its first session for 2022, and much to the expectation of the commentariat, Governor Phillip Lowe has opened the session this year with a dot ball.
The decision to hold the central bank cash rate target at 0.1% for another month was not a great surprise. What was unexpected, though, was the admission that headline inflation figures, which spiked to 3.5% in the year to December 2021 (underlying inflation hitting 2.6%), are now years ahead of the bank's previous forecasts.
These recent inflation figures have made some impact, however. The RBA has decided to call time on its $350 billion pandemic bond-buying program, a clear signal that affirmative action is taking place to begin the arrest of the runaway rise in national prices.
Some banks are now tipping one (or more) rate rises in 2022; however, Dr Lowe was quick to temper this thought, saying that the bank will need to see both a sustained pick up in inflation, combined with a similar rise in wage growth before being stirred into action.
Understanding inflation
The consumer price index (CPI, or 'inflation') can mean a lot of different things, depending on the application. The task of estimating CPI is a big one, with the Australia Bureau of Statistics collecting 100,000 prices of items across 87 expenditure classes, over 11 groups every quarter to provide this crucial statistic for our economy. Below are the 11 groups and relevant weightings as an example.
Inflation is offered in a number of forms, namely headline and underlying, with underlying split into a 'trimmed' and 'weighted' version.
Headline inflation is criticised because it includes goods and services that suffer from seasonal disruption and temporary booms or busts in prices. A good example is the 400% rise in bananas after the 2006 Tropical Cyclone Larry in Queensland.
The Underlying inflation figures (namely trimmed and weighted means) seek to correct these issues by removing or averaging outliers to 'smooth' the CPI figure and prevent over correcting actions by central banks and federal governments.
Questions remain over the 'subjectivity' of removing outliers, however, as these can indicate particular pain points for consumers that focus on these areas of expenditure. For a strata committee, this is precisely the issue of the day.
The hidden costs of inflation for strata buildings
The primary purpose for Capital Works, Maintenance, Sinking, and Reserve Funds (depending on your respective state) is to repair and replace the shared or common property of your strata scheme.
By its very nature, these costs are usually centred around construction materials and labour, as significant parts of the building (think roof, window and surface replacement) come up for renewal and repair to maintain the amenity (and value!) of the building and the safety of its residents.
Unfortunately, this is where the tough news begins. As the pandemic has wreaked havoc with supply lines and freight costs over the last few years, building material costs have seen an extraordinary rise in prices, which is highly likely to continue for the foreseeable future.
In fact, for just the December quarter of 2021, the ABS reports that input prices to construction have risen by an average of 3.8%, going onto an annualised figure of 12%!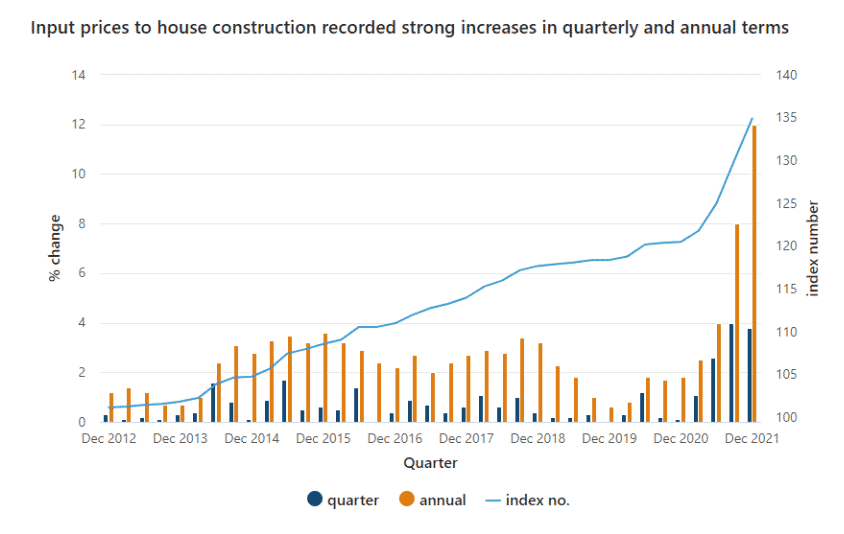 Here are the components of the building sector at a national level for the year 2021.
| | |
| --- | --- |
| Producer Price Indexes by Industry | Change in price 2021 |
| Timber, board and joinery | 16% |
| Ceramic products | 7% |
| Concrete, cement and sand | 2% |
| Cement products | 6% |
| Steel products | 27% |
| Other metal products | 12% |
| Plumbing products | 7% |
| Electrical equipment | 10% |
| Installed gas and electrical appliances | 2% |
| Other materials | 6% |
| All groups | 11% |
Read More: Construction Cost Rise Highest in 16 Years
The implications for Australian Strata Schemes
Given the above, it's not hard to see the effect this recent spike on building material prices might have on the projected costs in your 10-year maintenance plan and the potential for the strata savings of a building to be well underfunded.
The first port of call should be to have your 10-year maintenance plan reassessed to ensure that your projected costs reflect the most recent materials and labour rises.
Once you have these updated figures in hand, you may find that the projected growth of the strata fund is outstripped by the anticipated costs of repair and significant works. So now the question remains, what can be done about it?
The answer lies in four solutions, and the first three are not pleasant.
Rising Strata Levies. Unfortunately, the most obvious way to combat these rising costs is to elevate the annual levies paid by your lot owners. This unpalatable reality is a necessary step to help ensure the fund can meet its expenses.
One-off Special Levies. In a similar vein to the above, the prospect of a large special levy being levelled upon the lot owners is less than ideal. Especially when not all lot owners can afford a large expense causing friction between the ownership.
The prospect of debt. Whilst the attraction of rock bottom lending rates does entice the thought of using a loan to help meet the additional expenditure, it brings the prospect of putting the strata scheme into a negative equity position. This can harm the future sale values of the lots if potential buyers do their due diligence.
Doing more with your accumulated funds. The record low cash rate set by the Reserve Bank has helped raise inflation levels and forced the major banks to lower the returns offered on term deposits and cash savings. Why pay more to depositors when you can borrow from the Reserve Bank at near-zero rates? It is now time to consider alternatives to the status quo to help your Strata savings maintain its value against inflation.
Thankfully help is at hand for the fourth option. Rapidly rising building expenditure is an unfortunate situation that Strata Guardian can help with, using proven and robust investment strategies that can assist in achieving better real returns over the long term for the Australian Strata Community.
We welcome you to get in touch and see how we can incorporate your building's 10-year plan into competent and transparent investment strategies that help fight rising strata levies, avoid 'special levies' and support the value of the lots within your building.
Tim Fuller is the Head of Wealth at Strata Guardian, and an authorised representative of Strata Advice AFSL 528306.
Tim Fuller
Strata Guardian
E: [email protected]
P: 1300 482 736
This post appears in Strata News #542.
Have a question about implications of rising inflation for Australian Strata Schemes or something to add to the article? Leave a comment below.
This article is for reference purposes only and is not intended to be a comprehensive review of the developments in the law and practice or to cover all aspects of the subject matter. It does not constitute legal, financial or other advice and should not be relied upon this way. Readers should take legal, fianancial or other advice before applying the information contained in this publication.
Related Articles
Visit our Your Strata Levies OR OR Strata Topics by State pages.
Are you not sure about some of the strata terms used in this article? Take a look at our NSW Strata Glossary to help with your understanding.
After a free PDF of this article? Log into your existing LookUpStrata Account to download the printable file. Not a member? Simple – join for free on our Registration page.