This article about compliant fire systems has been written by Greg McCulloch, Westside Fire Services.
Most fire service companies only allow to carry out routine maintenance that is required by Australian Standard 1851 to be done in yearly cycles. For example, fire detection systems are required to undergo a series of tests every month, every six months more tests are done and then once a year a more complex test is required. Fire sprinkler systems have a similar requirement.
GET NOTIFIED WHEN WE PUBLISH NEW Q&As, NEWS AND ARTICLES TO THE SITE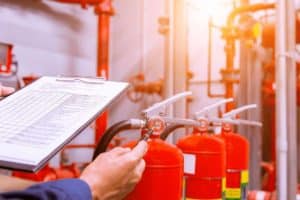 Australian Standard 1851 also requires some fire systems to have long term tests to be completed – 5, 10, 25 and 30 years. Your existing service company should notify you when the additional tests are required, however, this can be difficult if they don't know the full service history of the building.
Lot owners have a duty of care to ensure building services are always operating effectively and are compliant. The strata manager or a responsible person on the council of owners should understand what tests are required and when they fall due. This is also very important should a fire incident occur as the insurance company will review the service records, if all the required inspections and maintenance has not been completed then it is likely your claim will be denied.
Contact your fire services company to request a quotation for the additional tests. This could be thousands of dollars. In most cases you can engage an alternative company to carry out the additional work without breaching your contract with the existing provider, so obtain additional quotations to ensure you minimise cost.
Have a question about compliant fire systems or something to add to the article? Leave a comment below.
Read next
Greg McCulloch
Westside Fire Services
P: 08 9248 4824
E: [email protected]
This post appears in Strata News #354.
Visit our Maintenance and Common Property OR Strata Information WA pages.
Looking for strata information concerning your state? For state-specific strata information, try here.
After a free PDF of this article? Log into your existing LookUpStrata Account to download the printable file. Not a member? Simple – join for free on our Registration page.