These Q&As about owners corporation repairs to items such as a seperate water meter or the hot water systems in VIC has been provided by Joel Chamberlain, Horizon Strata Management Group.
Question: Our Owners Corporation will not repair the two failing hot water systems at our scheme. Are the Owners Corporation being irresponsible in failing to maintain these items?
We are an Apartment of 28 lots with two Hot Water Systems.
Only one hot water system has been Functioning for the past eight months. The second hot water system has now failed too.
Are the Owners Corporation being irresponsible in failing to maintain the second hot water system/backup unit? Where can I go as I have registered a complaint and nothing has been done.
Answer: It is always good practice for the Owners Corporation to communicate what is happening so residents stay informed and can plan ahead.
This matter should be relatively straight forward to resolve, but there may be another reason why the Owners Corporation has not yet repaired or replaced the system.
This can be any number of reasons, such as; a lack of funds, the Committee is currently reviewing quotations to seek the best option or organising a tradesperson may be difficult in these times. It may even be that the system(s) need to be upgraded to meet current compliance, or relocated from the roof (gravity fed) to ground level.
Whatever the reason, it is always good practice for the Owners Corporation to communicate what is happening so residents stay informed and can plan ahead. Communication is done so via the Manager on the Owners Corporations behalf.
If you have two Hot Water Systems in place and one ceased to function eight months prior, that should have been a clear indication to look at repairs to that system urgently. Doing so would have mitigated the current circumstances.
Regardless, it is now a matter of urgency that this critical service to each of the apartments is resolved.
With the limited information provided on why the Owners Corporation has not resolved your issue, it is hard to say whether they are irresponsible or not.
A primary function of an Owners Corporation is to repair and maintain common property. Part of common property can also be the services which service each lot, such as hot water. Refer to sections 4, 46 and 47 of the Owners Corporation Act 2006.
In this scenario, you could class the hot water service in your building as a service that the Owners Corporation is responsible to repair and maintain.
The question is, has your Owners Corporation failed in its duty to repair and maintain a service which is for the benefit of more than one lot and the common property?
Something that you will need to play out after you have resolved the issue at hand.
There is a mechanism to lodge a formal complaint to the Owners Corporation. However, this is to notify the Owners Corporation of a breach of the rules, Act or Regulations by another lot owner, occupier or Manager. It is not necessarily to lodge a complaint to the Owners Corporation about the Owners Corporation breaching rules, Act or Regulations.
Your first point of contact should be the Owners Corporation Manager to provide you with an update on the status of the repairs. If they are not responsive, a matter such as this should be referred to Consumer Affairs.
Consumer Affairs has an Owners Corporation division which assists owners with issues that are difficult to navigate. Often, they are a sounding board for owners who are not able to resolve issues themselves. Consumer affairs can facilitate discussions between parties and will generally contact the Owners Corporation or Manager to assist with the matter in general. I suggest contacting a representative at your earliest convenience.
This post appears in Strata News #359.
Question: We have separate water meters in our small scheme. One of the lot's water meters was damaged. Who should pay for the repair? Or can we claim insurance to cover the cost?
I am the owner of a lot in a 4 unit scheme under strata management in Victoria. We have separate water meters installed.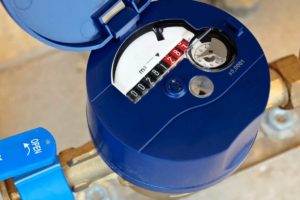 Damage was caused to Unit 1's separate water meter assembly. Repair costs for the damage were invoiced by the strata manager to the owners corporation. Combined funds from our owners corporation account were used to pay for the repairs.
I believe, under the OWNERS CORPORATIONS ACT 2006 – SECT 129 that the liability for the repairs rests solely on the lot owners on Unit 1.
Care of lots
A lot owner must—
properly maintain in a state of good and serviceable repair any part of the lot that affects the outward appearance of the lot or the use or enjoyment of other lots or the common property; and
maintain any service that serves that lot exclusively.
The strata manager has also advised that a police report was required to claim the repairs under insurance. Is this correct? Surely we only need the invoice for the repair.
Answer: A lot owner is required to maintain their lot and any service the serves that lot exclusively.
If each lot has installed a separate water meter, this service would now be classed as an exclusive service to each lot. In short, yes. A lot owner is required to maintain their lot and any service the serves that lot exclusively.
The key with plumbing and distinguishing where responsibility lies is to identify the point at which it branches off to serve that lot exclusively.
Regarding your second question regarding an insurance claim, it is difficult to provide a specific answer without all of the details behind the incident, so I will try to provide you with examples to assist where possible.
With insurance, it will come down to the type of incident that has occurred. Incidents are referred to as insurable events.
You mentioned that the water meter was damaged and went on to state you have been requested to provide a police report. Typically, a police report can be required when the damage relates to theft, vandalism or malicious damage by a third party.
From this information, I can assume that you are unaware of how the damage was caused, but the insurer may believe it to be malicious such as vandalism. I would suggest clarifying how the incident occurred with your Manager and if necessary, seeking what the insurer requires in writing from them directly.
If you have an insurance broker, then it would be recommended to seek their assistance and advice first. They are often the best source of support when a claim becomes difficult and will work with you to convey the right information to the insurer.
At the very minimum, yes, you will need a plumber's invoice and report to clarify the loss you have incurred to the insurer.
If the damage is exclusive to the water meter for Unit 1 and even if you cannot pinpoint how the damage has occurred, it is, unfortunately, Unit 1's responsibility to repair. Thankfully, insurance exists for circumstances such as this, so they should seek guidance from the insurer as to whether this is covered under the policy.
This post appears in Strata News #350.
Joel Chamberlain
Horizon Strata Management Group
E: [email protected]
P: 03 9687 7788
Have a question about damage to separate water meters or something to add to the article? Leave a comment below.
Embed
Read next:
Visit our Maintenance and Common Property, Strata Insurance OR Strata Title Information Victoria
Looking for strata information concerning your state? For state-specific strata information, take a look here.
After a free PDF of this article? Log into your existing LookUpStrata Account to download the printable file. Not a member? Simple – join for free on our Registration page.