This article is about how strata owners can regain control over cost of remedial repairs.
Property owners, ensuring asset longevity is critical. To regain control of remedial repairs requires informed decision making, strategic planning, clear expectations, cost control measures and a strong partnership with strata/body corporate managers. This is especially true following recent legislation in Victoria that addresses the procurement of services on behalf of owners.
The legislation supports owners through the provision of competitive pricing and terms in the daily running of a strata property. When universally adopted, this approach can be worth the time and investment to achieve positive outcomes from the very beginning.
Regaining control goes beyond selecting the cheapest option from a handful of quotes. Strata repairs can be complex, with many factors to consider to ensure the challenges and underlying cause(s) are addressed. Taking the time to evaluate these factors will minimize the chance of reoccurrence and ongoing issues or — in an emergency — mitigate further risk or damage to the property or an individual.
Setting clear expectations and defining your objective is key. Repair objectives need to:
Be inclusive of all repairs.
Conform to statutory requirements.
Provide warranty of guarantee.
Ensure extent and cost of works is balanced with the benefits
It is critical to define both your objective and the extent of work required. Be clear in what you expect and outline your objective:
You require repairs to be all inclusive
You need it to conform to statutory requirements
Your need a warranty of Guarantee
Extent & cost are balanced with the benefits
Scenario 1 – Cost Verification Audit
Following recent floods, a client experienced water damage to their property. Five carpeted rooms were impacted — requiring water extraction and cleaning to restore them back to their pre-loss condition. The client engaged the expertise of a restoration expert for support.
As is all too often the case in these situations, a reactive approach and the drive to respond resulted in the client being charged well above industry standard rates and additional charges including but not limited to:
Unwarranted project management fees
Unnecessary storm loading costs
Double dipping of holiday loading (included within their original hourly rates)
Inflated drying equipment charges
An after-services audit identified that this was a simple restoration job when process and best practices were applied to determine the actual costs associated with repairs. Significant savings are achieved when using industry knowledge of costs based on cubic meter rates, appropriate allocation and distribution of equipment, quantification and application of necessary chemicals and materials, and associated labour costs.
Scenario 2 – Cost Control and Project Management Throughout Works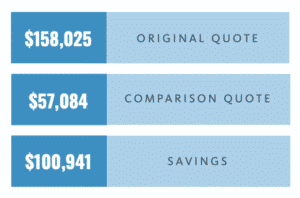 Larger and more complex jobs require a different approach. For these situations, proactively engaging experts can ensure proper management of and response to repairs and/or restoration requirements from the beginning Cost and scope control measures are put in place and maintained for the duration of the works.
In the fit out stage of construction, vandals break into the complex of a strata building to destroy property and turn on common area fire hydrants — causing water damage to both building and contents, including floor coverings. Sedgwick was engaged to review an initial quote and proposed scope of works for the remedial repairs and restoration. A lack of detail and minimal forensic information provided to substantiate the proposed works was identified.
Following Sedgwick's attendance to site, the engagement of a preferred panel supplier was provided with a defined scope covering all elements of restoration — from labour costs to equipment requirements and placement.
The initial quote only allowed for the installation of 181 x air movers, 62 dehumidifiers and 4 x Axial fans over an undefined period of time. The review was able to identify that the available power load at the site would not support this approach and raised concerns around secondary damage with potential mould growth.
A drying regime, accompanied by the strip out of a component of wall linings led to a controlled, quantified and streamlined approach that ultimately resolved the repair and restoration aspects of the job — minimizing risk, further damage and delay in handover.
Sedgwick
E: [email protected]
P: 1300 735 720
Have a question about regaining control over remedial repairs or something to add to the article? Leave a comment below.
This article is not intended to be personal advice and you should not rely on it as a substitute for any form of advice.
Read next:
Visit Strata Building Defects, Maintenance and Common Property OR Strata Topics by State pages.
After a free PDF of this article? Log into your existing LookUpStrata Account to download the printable file. Not a member? Simple – join for free on our Registration page.