Qld lot owners would like to tidy up car park storage in their underground car parks. How do they do this while still complying with the Body Corporate? Frank Higginson and Todd Garsden, Hynes Legal provide the following information.
Question: Can I put a box trailer in my second parking bay and used it for car park storage? Will it comply with body corporate and how do I go about getting approval?
GET THE LATEST STRATA NEWS / ARTICLES DIRECT TO YOUR INBOX HERE
I have two parking bays in my complex.
I want to put a storage lockup in my second parking spot for car park storage but the committee said the type of shed I want to install doesn't comply with the body corporate rules.
Can I put a box trailer in my second parking bay and used that for car park storage? How do I go about getting approval?
Answer: It is a question of whether the committee is acting reasonably in refusing permission.
I am going to proceed on the basis that the parking bay is an exclusive use space.
The starting point is whether the by-laws deal with the type of things that can be installed for car park storage along with whatever anyone else has got installed.
Then it is a question of whether the committee is acting reasonably in refusing that permission. The question about the box trailer is the same. This really is one of fact and degree.
This post appears in Strata News #218.
Frank Higginson
E: frank.higginson@hyneslegal.com.au
P: 07 3193 0500
W: http://www.hyneslegal.com.au
Question: Lot owners store furniture and rubbish in our car park. I want car park storage to stop. Our Body Corporate will not assist. What do I need to do?
I live/own an apartment in Surfers Paradise, Queensland.
The security underground carpark has a lot of things stored in carpark spaces: Furniture, Tyres, Cupboards etc….
I've contacted Management and the Body Corporate on many occasions to have this stuff removed but with no result.
The Body Corporate told me it was too long a process to have the items removed from the car park area.
What can I do to make this happen?
Answer: Check the by-laws to see if what is being stored is breaching any by-laws.
First, you need to check the by-laws to see if what is being stored is breaching any by-laws.
If it is, then there is a form 1 that can be sent to the committee: Notice to body corporate of a contravention of a body corporate by-law. That will then:
(a) Force the committee to take by-law enforcement action; or
(b) If the committee doesn't take by-law enforcement action – allow the owner to make an application in the commissioner's office seeking that the by-laws are complied with.
This post appears in Strata News #197.
Todd Garsden
E: todd.garsden@hyneslegal.com.au
QLD Car Park Storage: Dangerous items stored in Common Areas
Sept 2017 – This article discussing the importance of good car park storage guidelines has been prepared by Peter Greenham, Independent Inspections.
There is an increasing trend of people storing items within the reach of children in common areas such as car parks. We have sited over 4 cases where this has occurred within the last month. Due to this, we thought it was pretty important to let managers and residents know about important safety concerns around car park storage.
The picture highlights a few things.
Hazardous liquids stored in a spot accessible to young children to swallow
Restriction of access to the fire extinguisher
Identification and minimisation of hazards
Duty of care with management of risks.
Hazardous chemicals are substances, mixtures and articles that can pose a significant risk to health and safety if not managed correctly. They may have health hazards, physical hazards or both. Examples of chemicals that can immediately injure people or damage property include flammable liquids as pictured.
Safe Work Australia: Hazardous Chemicals FactSheet
Building Fire Safety Regulation 2008
Work Health and Safety Regulation 2011
Keeping equipment free from obstruction
Person not to obstruct an evacuation route
(1) A person must not—
(a) place a thing— building if the thing would be likely to unduly restrict, hinder or delay a person to access equipment
There is supposed to be a 2 meter free access to fire equipment and exits.
The Building Fire Safety Management Tool, from the Queensland Fire and Emergency Services is a good checklist for owners and managers to understand what the requirements are under the fire regulations.
Solutions in the storing of items and equipment could be the in the form of lockable storage shelves/cabinets, or an over bonnet storage locker as shown below: image courtesy of Storebay Smart Storage Solutions.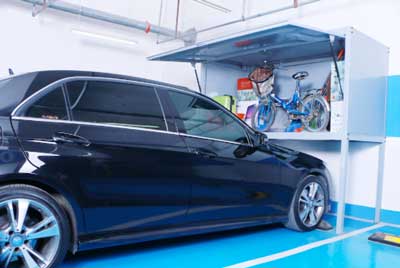 Read next:
Breaching Gas Bottle Storage Requirements in Strata
QLD: Q&As regarding fire door compliance
This post appears in Strata News #158.
Peter Greenham,
Independent Inspections
E: peter@iigi.com.au
After the latest information about excessive water damage repairs or information about strata living in your state or territory? Visit our Maintenance and Common Property OR Strata Information Pages by State
After a free PDF of this article? Log into your existing LookUpStrata Account to download the printable file. Not a member? Simple – join for free on our Registration page.