We recently received the following question about smoke alarms in NSW strata units. Peter Berney, Solutions in Engineering has provided the following response.
Question: In NSW, who is responsible to ensure the smoke alarms in strata units are operational? Who's responsibility is the cost of replacement and installation of new smoke detectors?
GET NOTIFIED WHEN WE PUBLISH NEW Q&As, NEWS AND ARTICLES TO THE SITE
Our strata committee regularly checks all our unit's smoke detectors to ensure that they are still operative. I understand that this is a requirement under fire prevention legislation in NSW, and could also have a bearing on our strata's property insurance.
I have recently discovered that smoke detectors have an effective 'use by date' and although 6 monthly checks have led to backup battery replacements over time, the entire unit is supposed to be replaced after 10 years.
As our installed units have a replacement date of 2014 is our strata in breach of any NSW fire prevention guidelines, or is the strata's fire insurance cover compromised?
Answer: The Owners Corporation would not be in breach.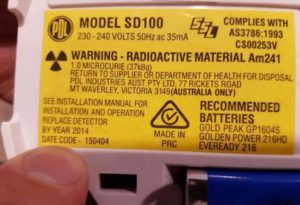 There are provisions in the Environmental Planning and Assessment Regulation that require existing buildings to install smoke alarms, but they are only limited. There are specific requirements for each classification of a building, including the locations of the alarms, however, there is no requirement for photo-electric alarms, unlike that has been introduced as of the 1st January 2017 in Queensland.
The responsibility for the replacement of the smoke alarm is that of the owner and any smoke alarms in the common property would be that of the Owners Corporation. The smoke alarms need to have supply from mains electricity or a non-removable battery with a minimum life expectancy of 10 years that is connected to the alarm.
The Owners Corporation would not be in breach of the Environmental Planning and Assessment Regulation if an individual lot had not replaced their smoke alarm if it has passed its use by date and this would not affect the Owners Corporation's strata Insurance.
What would happen if an owner didn't replace the batteries? I imagine the mother of all personal injury lawsuits! We need only to look at the drivers for change elsewhere e.g. The Childers Palace Backpackers Hostel fire 23rd June 2000 where 15 people lost their lives forced the Queensland Government to introduce the toughest and 'best practice' Fire Safety requirements in the country. The timber hostel did not have working smoke detectors or fire alarms.
Another example of what happens when smoke alarms are not maintained or tampered with is the Slacks Creek Fire in 2011 south of Brisbane. 11 people died in the worst residential house fire in Australia. When the fire started, no smoke alarms were functioning. The alarms had been disabled because they caused too many false alarms. Less than 15 minutes later, the house was a shell and eleven people had died. Had working smoke alarms been fitted, most lives would have been saved.
This is why Queensland introduced a requirement for Photoelectric smoke alarms to be fitted so that this type of preventable disaster would not happen again. Ionization alarms are not good at detecting fires. They 'feel' for the fire, whereas Photoelectric fire alarms 'see' the fire by detecting visible combustion particles. They won't sound an alarm when the toast is burnt or shower steam escapes but they will sound an alarm where there is a dangerous, smouldering fire!
Research shows that both have comparable response times in "fast flame" fires, but photoelectric alarms respond over 15 minutes faster to a smouldering fire. In one study, the only time the ionization alarm was quickest was in detecting burning toast!
Smoke alarms are a really important warning device because unfortunately, there are too many ways in which a fire can start in a household. This includes:
Kitchen stoves / cooking equipment
Electric blankets
Faulty wiring
Smoking
Overheated lighting
Candles
Heating (e.g. Portable heaters)
Most fires happen in the middle of the night when you're sleeping – you may only have a few minutes to wake up and get you and your family outside. Most fire deaths are the result of smoke inhalation rather than from burns, another good reason to make sure this life-saving device is working.
This post on appears in Strata News #146
Share your thoughts about smoke alarms in NSW. Have a question or something to add to the article? Leave a comment below.
Read next:
Peter Berney
National Business Development Manager
Solutions in Engineering
T: 1300 136 036
E: [email protected]
This article is not intended to be personal advice and you should not rely on it as a substitute for any form of advice.
Are you interested in more information about smoke alarms in NSW strata units or information particular to strata legislation in your state or territory? Visit Maintenance and Common Property OR NSW Strata Legislation.
Looking for strata information concerning your state? For state-specific strata information, try here.
After a free PDF of this article? Log into your existing LookUpStrata Account to download the printable file. Not a member? Simple – join for free on our Registration page.