An ACT lot owner would like to know if the two owners corporations in their development can be converted to one single strata plan. Christopher Kerin, Kerin Benson Lawyers provides the following information.
Question: Is there any legal reason why we cannot combine the two owners corporations in our 21 townhouse development into a single strata plan?
GET NOTIFIED WHEN WE PUBLISH NEW Q&As, NEWS AND ARTICLES TO THE SITE
I live in a new development of 21 townhouses. We were supposed to be one Strata Plan, however, when the buildings were registered, the block they were built on was divided into two blocks for some reason and so we now have two Strata plans.
Having two owners corporations for this development doesn't seem logical, particularly as we have one basement garage with only one shared entry and exit door.
Is there any legal reason why we can't have one combined Strata Plan / Owners Corporations?
Answer: There is no particular legal requirement for a development to have been completed with one owners corporation only.
This seems like a quite an unusual arrangement but there is no particular legal requirement for a development to have been completed with one owners corporation only.
It is possible that the development could be made the subject of one unit plan only but this would require the cancellation of both units plans and the subsequent registration of a single units plan.
This would involve a reasonable amount of work legally as well as amongst other things the engagement of a land surveyor (to draw up the new units plan) and a valuer to prepare a new scheme of unit entitlements.
This post appears in Strata News #316.
Have a question about the installation of solar panels in ACT or something to add to the article? Leave a comment below.
Read next:
Christopher Kerin
Kerin Benson Lawyers
P: 02 8706 7060
E: [email protected]
This article is not intended to be personal advice and you should not rely on it as a substitute for any form of advice.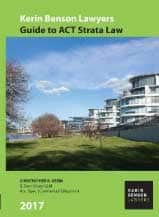 After more detailed information dealing with Strata Law in the ACT? Chris Kerin's Guide to ACT Strata Law is now available.
Visit Strata By-Laws and Legislation, Strata Plans / Strata Reports OR Australian Capital Territory Strata Legislation
Looking for strata information concerning your state? For state-specific strata information, try here.
After a free PDF of this article? Log into your existing LookUpStrata Account to download the printable file. Not a member? Simple – join for free on our Registration page.