This ACT lot owner would like some guidance about the use of common property for commercial purposes. Christopher Kerin, Kerin Benson Lawyers provides the following information.
Question: Can you provide some guidance on reasonable use of common property? We have had an application for using common property for commercial purposes.
GET NOTIFIED WHEN WE PUBLISH NEW Q&As, NEWS AND ARTICLES TO THE SITE
Answer: Owners corporation must not carry on business.
I would probably need a bit more detail on this but note that section 71 of the Unit Titles (Management) Act 2011 provides as follows:
71 Owners corporation must not carry on business
An owners corporation must not carry on business except in the exercise of its functions.

Note: The earning of income from the operation of sustainability infrastructure by an owners corporation does not amount to carrying on business if the income is used to pay certain costs (see s 23 (4)).

If an owners corporation contravenes subsection (1), each executive member of the corporation at the time of the breach commits an offence.

Maximum penalty: 50 penalty units.

It is a defence to a prosecution for an offence against subsection (2) if the defendant proves that—

the defendant took reasonable steps to ensure that the contravention did not happen; or
the contravention happened without the defendant's knowledge.
It really depends upon who is using the common property and for what.
Consideration also needs to be given to not contravening the lease purpose clause as well as the Territory Plan.
This post appears in Strata News #295.
Have a question about commercial use of common property or something to add to the article? Leave a comment below.
Read next:
Christopher Kerin
Kerin Benson Lawyers
P: 02 8706 7060
E: [email protected]
This article is not intended to be personal advice and you should not rely on it as a substitute for any form of advice.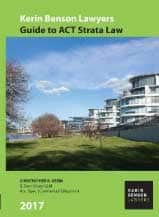 After more detailed information dealing with Strata Law in the ACT? Chris Kerin's Guide to ACT Strata Law is now available.
Visit Maintenance and Common Property OR Australian Capital Territory Strata Legislation
After a free PDF of this article? Log into your existing LookUpStrata Account to download the printable file. Not a member? Simple – join for free on our Registration page.