This Q&A from a NSW lot owner who was fined for moving bins that were blocking their parking space has been answered by Andrew Terrell, Bright & Duggan.
Question: I relocated bins that were blocking my parking space, was captured on CCTV and have been fined $550. I'm unable to get a reasonable response from the Owners Corporation about the matter. What do I do?
GET THE LATEST STRATA NEWS / ARTICLES DIRECT TO YOUR INBOX HERE
I am a lot owner in NSW. The bins on the common property of our scheme have been rearranged and 3 of them are obstructing access to my allocated car space. I have written to the Owners Corporation via Strata many times and requested that these bins be relocated to another emptier bin area which does not infringe on any car spaces. I have never received a response to these requests.
A few weeks ago, I moved 3 of the bins to the other bin area to stop the obstruction of my car space. This was captured on CCTV and I received an fine from Strata "on behalf of the Owners Corporation" for $550. All the fine said was "cost of relocation of bins".
These are wheelie bins and are moved around daily anyway. Can The OC charge for having to ask the building manager to put the bins back? Aren't the bins owned by the OC? As a lot owner aren't I a part of the OC?
The chairman of the OC and the Strata Manager are totally unapproachable. Can they enforce a fine without detailing what the $550 is made up of?
If I decline to pay this unreasonable invoice, can this cost be added to my levies? My Strata levies are always up to date.
Please help as this is the most unreasonable thing I have ever heard of.
Answer: The by-laws would generally prohibit obstruction of common property.
Your request to the Owners Corporation to relocate the bins would seem to be a completely reasonable, particularly if photos were provided of the issue. The by-laws would generally prohibit obstruction of common property.
The lack of response from either strata or the OC is completely unreasonable and I don't believe there's any basis where the OC could issue an invoice as they have done.
Even though the bins are owned by the OC permission should be sought to move them.
I would be writing to the committee as a whole, use the last AGM minutes to find out who they are. You can also arrange a strata search with the strata manager to obtain contact details if the strata manager refuses to provide contact details.
I don't believe they can force a cost without detailing why the cost is $550 and I wouldn't be paying it.
There is no basis on which they can add this to your levies or recover it like it was levies. You will need to speak to Fair Trading for advice and seek mediation or consult a lawyer if they look to do so.
Embed

Read More:
This post appears in Strata News #258
Andrew Terrell
Bright & Duggan
E: [email protected]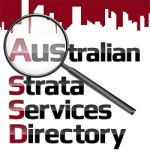 Looking for strata law specialist in your area? Search within our Strata Services Directory in the category NSW Legal Services for the best list of contacts available.
Visit Your Strata Levies OR NSW Strata Legislation.
After a free PDF of this article? Log into your existing LookUpStrata Account to download the printable file. Not a member? Simple – join for free on our Registration page.
Have a question or something to add to the article? Leave a comment below.