This article about Emergency Planning in Western Australia has been written by Greg McCulloch, Westside Fire Services.
On average there are 10 fires every year in multi-storey residential buildings in Western Australia.
Building owners and occupiers should be familiar with the evacuation procedures in their building and importantly, what to do in case of a fire. Emergency planning for evacuation, in the event of a fire, will differ from building to building.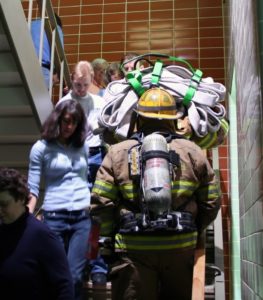 Further guidance on emergency evacuation can be found in Australian Standard AS 3745 Planning for emergencies in facilities. The standard provides information on developing an emergency plan and evacuation diagrams for buildings. The Fire Protection Association Australia provides information on emergency evacuation and can provide contact details of relevant practitioners who can assist in developing emergency plans.
GET NOTIFIED WHEN WE PUBLISH NEW Q&AS, NEWS AND ARTICLES TO THE SITE
Factors to Consider for a Fire Emergency Plan
The owner, or building management body, should clearly communicate the building's evacuation procedures to the occupants. This could include providing relevant information in meetings, through newsletters, flyers, and notices around the building.
Fire Emergency Plan Floor Plan And Evacuation Diagram
Floor plans, indicating the position of emergency stairs, exits, emergency equipment and general instructions for occupants, should be prominently displayed in each floor level or area. Each floor plan should also indicate the primary assembly area and evacuation routes.
Conducting regular emergency based exercises assists in raising familiarity with exit routes and identifying any improvements that can be implemented for evacuation. It may be useful to have an appointed fire warden for the building, keeping a register and mobile phone contact for each occupier/owner of each individual unit in the building. This way everyone can be accounted for in an emergency evacuation.
Lifts should not be used in the event of a fire, unless forming part of an approved performance solution for the building.
Apartment buildings should generally contain fire hose reels and portable fire extinguishers in common areas to allow occupants to undertake an initial attack on a fire. It is important to become familiar with where extinguishers are located and how to use them. However, if it is not possible or safe to extinguish a fire then occupants should immediately evacuate the building to a place of safety.
Only if it is safe to do so, notify:
Other occupants in the building that there is a fire and they need to evacuate; and
The fire brigade by dialling triple zero (000).
Being Familiar with The Fire Alarm Tones
Different sounds may be heard in a unit or throughout the building such as doorbells, smoke alarms within individual units, ringtones, alarm clocks and security system sounder. Occupants should be familiar with the sound of the alert tone and the evacuation tone from the building's fire warning system.
An often forgotten part of an emergency plan is what happens after the incident. It is dangerous to re-enter a building after a fire. Occupants should only do so when the fire brigade advises that it is safe. It is likely that power will not be available and other services may be damaged. Building managers should have contact information readily available for the insurance company, electrician, plumber, fire services etc. It is important that the owner / occupant contact register is maintained to ensure real time communication can be provided.
This post appears in Strata News #271.
Have a question about emergency planning or something to add to the article? Leave a comment below.
Greg McCulloch
Westside Fire Services
P: 08 9248 4824
E: [email protected]
Please note this advice was provided prior to the proclamation of the new strata title amendments and will be updated in due course.
Read next

Visit our Maintenance and Common Property OR Strata Information WA pages.
Looking for strata information concerning your state? For state-specific strata information, try here.
After a free PDF of this article? Log into your existing LookUpStrata Account to download the printable file. Not a member? Simple – join for free on our Registration page.