This article about the upcoming changes for Landlords in Victoria has been provided by CHU Underwriting Agencies.
From July 2020, landlords in Victoria are set to face a raft of new tenancy laws as the state government increases tenant rights and puts more responsibility on property owners and restricts some practices of the past. Here, we look at the major changes and how they may affect you as a landlord.
Listing and marketing
Misleading statements: It will be an offence for a landlord or rental agent to make false or deceptive statements (or fail to tell a prospective tenant something vital) about a property, for example, not informing an applicant of an intention to sell, or that the property contains asbestos, or stating that tenants have free access to an on-site gym, when in fact they have to pay for it.
Pets: Unless they have specific permission from VCAT, landlords won't be able to ban pets. However, since not all pets or properties are the same, VCAT will be allowed to look at:
the type of pet,
the capacity of the property itself,
the types of furnishings and fittings included in a rental,
even whether the landlord has animal allergies.
Minimum standards: Landlords will be required to ensure that a property meets certain minimum standards. These include having a toilet, oven and living area heating that are all in proper working order. Owners must also make sure that there are:
suitable hot and cold water connections in kitchens and bathrooms;
adequate security on external windows and deadlocks on external doors;
suitable safety measures for gas, smoke and electricity;
even proper blinds or curtains on windows for privacy.
Rents and bonds
Fixed advertised price: The new regulations ban the practice of encouraging rent-bidding by owners and agents. That means, not only must properties advertise a specific rental price (i.e. no price ranges or 'from $X') but it will be illegal to invite prospective tenants to put in a higher offer in order to secure the lease.
Annual rent increase: Whereas landlords have been able to increase rents once every six months, this will now be pushed out to once every twelve months.
Bond caps: On most properties, the maximum bond a landlord will be allowed to demand is the equivalent of four weeks rent, unless the rental is more than double the median weekly rent. In special circumstances, however, a landlord will still be able to apply to VCAT for an exemption to the bond cap.
Bond repayment: Not only will tenants be able to apply to have their bond refunded (in full or in part) without the landlord's consent, but landlords will only have 14 days to dispute it, before the bond is automatically paid out by the Residential Tenancies Bond Authority.
Modifications, maintenance and repairs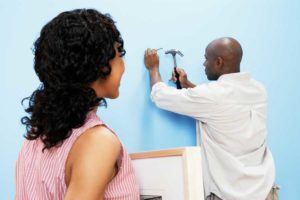 Minor modifications allowed: Tenants will be allowed to make minor modifications to properties, such as nailing in picture hooks and bookshelf anchors, without first getting the landlord's consent. The actual definition of 'minor modification' has not yet been agreed, however, it is believed that, for certain types of modification, the landlord can request that these be carried out by a qualified professional.
Urgent repair reimbursement: If a landlord is unable to arrange for urgent repairs, tenants will be able to book emergency repairs – which must then be reimbursed by the landlord, within 7 days of a reimbursement request. The current limit for repairs of $1,800 is being increased and will be detailed in the regulations.
Non-urgent repairs: Tenants can make a written request for landlords to undertake non-urgent repairs. Landlords will then have 14 days to make those repairs before the tenant can apply to VCAT for a repair order. If damage was caused by the tenants, the property owner can still issue a repair notice to the lessee.
Termination of leases
Removal of '120-day No Reason' termination: Landlords will no longer be able to give 120-days' notice to vacate without providing a valid reason (such as selling or renovating the property).
Family violence regulations: The new laws will allow victims of family violence to apply to VCAT to have their rental agreement terminated so that they're are not held liable for the debts or expenses of the perpetrators of the abuse.
Sales inspections: If a property is being sold, only two sales inspections per week (lasting no more than an hour) will be permitted under the new legislation, and these can only be held at least 14 days after tenants have been told that you wish to sell.
Rental listing inspections: If new tenants are being sought, landlords will only be able to show prospective tenants through the property within 21 days of the end of the current tenancy.
Other changes for Victorian Landlords
Landlord Blacklist: In addition to the creation of a Residential Tenancies Commissioner, the new laws also establish a public 'blacklist' of landlords and agents who have breached the Residential Tenancies Act or have been issued with a compliance order from VCAT.
What hasn't changed?
Despite the laws, tenants will still break the rules, leave without paying rent, damage and theft will still occur in properties, and landlords may still be legally liable for injury or property damage arising from their rentals. Luckily, specialist insurers such as CHU, offer specific landlord cover for those things that never seem to change.
This article was supplied by:
CHU Underwriting Agencies
Email
Important note: CHU Underwriting Agencies Pty Ltd (ABN 18 001 580 070, AFS Licence No: 243261) acts under a binding authority as agent of the insurer QBE Insurance (Australia) Limited (ABN 78 003 191 035, AFS Licence No: 239545). Any advice in this article is general advice only and has been prepared without taking into account your objectives, financial situation or needs. Please read and consider the relevant Product Disclosure Statement (PDS) before you make any decisions about this product. A copy of the relevant PDS is available here.
Read next
This post appears in Strata News #271.
Visit Renting / Selling / Buying Strata Property, Strata Insurance OR Strata Topics by State pages.
After a free PDF of this article? Log into your existing LookUpStrata Account to download the printable file. Not a member? Simple – join for free on our Registration page.
Have a question about the upcoming changes for Victorian Landlords or something to add to the article? Leave a comment below.