We received the following question about balcony concrete cancer from a VIC lot owner. Peter Berney, Solutions in Engineering has provided the following response.
Question: My concrete balustrade on my balcony is cracking severely and I'm not sure who is responsible for the repair
GET THE LATEST STRATA NEWS / ARTICLES DIRECT TO YOUR INBOX HERE
I have a query in regards to balcony concrete cancer and maintaining concrete balustrade on the balcony.
My concrete balustrade on the balcony is cracking severely and chipped concrete is starting to fall out both on the outer side and inner side of the balustrade.
I have contacted the body corporate in regards to the cracking issue. My body corporate manager informed me that "the boundaries within the plan of subdivision for this property are interior face, which means the lot owner is responsible for the inward facing part of their lot".
Does this statement apply to the balustrade of the balcony which serves as a safety feature? I feel it is not logical to have 2 different tradespeople to come and work on the same section of the concrete balustrade to repair the balcony concrete cancer.
Answer: This may be one of those rare cases where a surveyor or concrete cancer expert will need to be called in to determine responsibility.
Plans of subdivision are quite strict. The inward facing part of the balcony is considered the Lot Owners responsibility. However, if the internal wall of a concrete parapet has visual signs of concrete ('spalling') cancer, then there's a very good chance that it may be on the exterior of the wall as well.
The exterior of the parapet is the responsibility of the Owners Corporation. This may be one of those rare cases where a surveyor or concrete cancer expert will need to be called in to determine responsibility. Therefore I am of the opinion that the costs would need to be shared by the lot owner and Owners Corporation.
Concrete Cancer
Older buildings can get concrete cancer. The reo can be damaged by rust which affects the capacity of the balcony. A good example of this is a building we inspected were there was cracking of tiles along the support joint external cantilever balcony. Further investigation of this area by breaking out of the broken concrete revealed the following issues:
The depth of cover (distance between the top of the concrete and the top of the first reinforcing steel bar) was only 10mm which is less than the required 40mm cover for this type of marine environment as determined by AS3600 and AS3610.
The upper reinforcing steel bar (designed as distribution steel to prevent shrinkage cracking in the concrete after construction) shows signs of rust such that more than 50% of steel has already degraded.
The second layer of steel bar (running perpendicular to the door frame) which is the main design reinforcing steel also showed significant signs of rust.
The concrete around the bars was easily broken out, demonstrating the degradation of the reinforced concrete slab element. As illustrated by the simplified diagram, concrete cancer at the base of the cantilever element is extremely serious and if it is not repaired, the element will fail.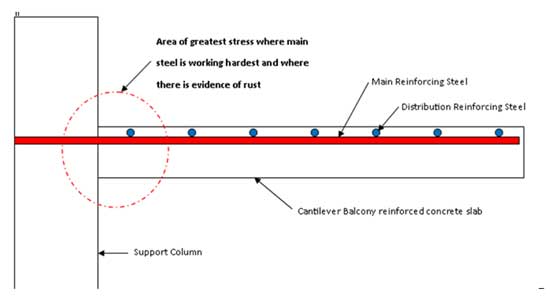 In this case, concrete cancer has spread to other parts of the balustrade and this would mean that the Owners Corporation is just as responsible for it as the individual lot owner is.
Concrete cancer is a common problem with strata property, though there are methods to combat it and repair work should commence ASAP. It is important that both the lot owners and Owners Corporation take proactive steps to avoid having to do expensive repairs, such as using high-quality paint, early reporting and regular inspections.
I highly recommend a 10 year Maintenance Plan be created by a suitably qualified inspector and utilised so that "preventative" maintenance/repairs can be undertaken in a timely manner thus avoiding costly repair work after concrete cancer has taken hold. Currently, 10 year Maintenance Plans are only required for "prescribed schemes".
A prescribed Owners Corporation is a development with more than 100 lots or total annual fees exceeding $200,000. Currently (with the exception of WA) Victoria is the only mainland state that doesn't require a maintenance fund for all schemes. This has led to more and more committees not putting away funds for further capital works maintenance. Consequently, as the buildings age, more major repair work will be needed as regular preventative maintenance goes unchecked.
Read more about balcony concrete cancer:
This post on appears in Strata News #122
Peter Berney
National Business Development Manager
Solutions in Engineering
P: 1300 136 036
E: [email protected]
This article is not intended to be personal advice and you should not rely on it as a substitute for any form of advice.
Are you interested in more information about balcony concrete cancer or information particular to strata legislation in your state or territory? Visit Maintenance and Common Property OR Strata Information Pages by State pages.
After a free PDF of this article as balcony concrete cancer reference? Log into your existing LookUpStrata Account to download the printable file. Not a member? Simple – join for free on our Registration page.