An ACT lot owner would like to know about general meeting notice requirements. Christopher Kerin, Kerin Benson Lawyers provides the following information.
Question: Can a motion that requires a special resolution be passed at an AGM by a reduced quorum that was not notified prior to the meeting?
Answer: Legislation requires that notices of general meetings must be given to each member of the owners corporation and each mortgagee's representative.
GET NOTIFIED WHEN WE PUBLISH NEW Q&As, NEWS AND ARTICLES TO THE SITE
This excerpt about an owners corporation's power around pet ownership and the removal of pets in ACT has been provided from Christopher Kerin's book: Guide to ACT Strata Law
Notice requirements
General meeting notices. Section 3.6 of Schedule 3 of the UTMA requires that notices of general meetings must be given to each member of the owners corporation and each mortgagee's representative (if any).
At the outset it should be noted that while the UTMA has dozens of references to mortgagee voting notices and mortgagee's representatives, these provisions are, in reality, rarely used or relied upon by mortgagees
Section 3.7 of Schedule 3 sets out the requirements for notices of general meetings. The notice of a general meeting for an owners corporation must state:
the time, date and place fixed for the meeting; and
whether the person notified is entitled to vote on all (or any) motions at the meeting, and if not, why not; and
for a member who is not entitled to vote on any motion because a mortgagee voting notice has been given – details of the notice, including the full name and address for correspondence of the mortgagee's representative; and
if a motion is to be moved that requires an unopposed or unanimous resolution – the text of the motion and the kind or resolution.
Curiously, there is no requirement under the UTMA to provide the text of a motion requiring only an ordinary or special resolution in general meeting notices. This gives rise to the question as to whether motions requiring ordinary or special resolutions can simply be taken from the floor and voted on without prior notice to the owners.
This issue was considered by Presidential Member Daniel in The Owners Corporation – Units Plan No 202 v Brudenall & Ors [2015] ACAT 64 and subsequently by Senior Member Robinson in The Owners – Units Plan No 68 v Haughey (Unit Titles) [2016] ACAT 131 in the context of special resolutions. However, these decisions would apply equally to ordinary resolutions.
In the letter case, Senior Member Robinson held:1
In summary, the respondent is quite correct to suggest that the Act does not require that the text of a special resolution be advised to members prior to the meeting. Nor is there any express requirement to circulate an agenda. However, this does not mean that a general meeting may canvas any topic.
The principles governing meeting practice and notice requirements are well developed, and guidance can be found in a number of authorities and in legal textbooks. For example, Joske's Law and Procedure at Meetings in Australia states as follows:
A meeting cannot travel outside the scope of the notice relating to it, so the notice should be drawn in such a way as to not unduly restrict the business that can be done under it. The meeting is competent to consider amendments to motions of which notice has been given, but the amendment must be such as it comes within the scope of the notified business…
In other words, notwithstanding that a notice of general meaning need not contain the words of a motion that requires approval only by special resolution, that motion must not be outside the scope of the meeting, as advised to members.
It is conceivable that a meeting notice could be broadly worded to allow for various forms of business to be raised from the floor. However, the meeting in this case concerned a single specific motion. The words of the motion were expressly advised to members.
Consistent with practice for unopposed resolutions, members were asked whether they agreed to the motion. In my view there is an argument that, having regard to the clear terms of the notice, the putting of any other motion, including an amended motion, was inappropriate and outside the terms of the business and invalid. Ultimately, however, I do not need to decide this as I am satisfied that both the first and second motions were invalid.
The Notice of a general meeting must include:2
A proxy form approved by the executive committee; and
An absentee voting paper for the motion in a for approved be the executive committee.
A notice of an annual general meeting must also include a copy of the following:3
The annual financial statements of the corporation to be presented at the meeting;
The general fund budget.
Where a mortgage voting notice is in force, the person entitled to vote for the unit is the mortgage's representative (not the unit owner, company's representative or the part-owners' representative).4
This post appears in Strata News #360.
Footnotes:
Unit Titles (Management) Act 2011 Schedule 3 s 3.7(2)
Ibis Schedule 3 s 3.7(3)
Unit Titles (Management) Act 2011 Schedule 3 s 3.20(2)
Have a question about general meeting notice requirements in ACT or something to add to the article? Leave a comment below.
Read next:
Christopher Kerin
Kerin Benson Lawyers
P: 02 8706 7060
E: [email protected]
This article is not intended to be personal advice and you should not rely on it as a substitute for any form of advice.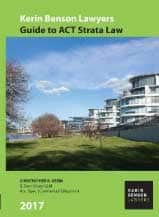 After more detailed information dealing with Strata Law in the ACT? Chris Kerin's Guide to ACT Strata Law is now available.
Visit Strata By-Laws and Legislation OR Australian Capital Territory Strata Legislation
Looking for strata information concerning your state? For state-specific strata information, try here.
After a free PDF of this article? Log into your existing LookUpStrata Account to download the printable file. Not a member? Simple – join for free on our Registration page.