This ACT lot owner would like to know if the EC can refuse requests for solar panel installation in the ACT. Christopher Kerin, Kerin Benson Lawyers provides the following information.
Question: Our Executive Committee believes they can't refuse permission for the installation of 'sustainability infrastructure' like solar panels under the Act. Is this correct?
GET NOTIFIED WHEN WE PUBLISH NEW Q&As, NEWS AND ARTICLES TO THE SITE
I am an owner in an unusual townhouse complex in the ACT. We have 105 townhouses on 30 acres of land, so most of our land is common property. This is a Class B complex, so unit roofs are privately-owned.
A number of owners have installed solar panels and solar hot water services on their roofs, presumably with approval from our Body Corporate's Executive Committee (EC).
A very large solar panel installation has just gone on the northern side of the roof of the unit at the end of my row, with permission from the EC. This installation is of course highly visible from the common land, as are the other solar installations like these.
Our Body Corporate rules apparently never envisaged this kind of installation happening here, and there is no provision for it as far as I can see. It could be argued that these installations are contrary to those aspects of the rules designed to preserve the external appearance of our units, maintain uniformity of design, and conformity with the materials originally used for the external surfaces.
When I queried this latest solar installation, the chair of EC told me that they (the EC) were under the impression that they could not refuse permission for the installation of 'sustainability infrastructure' under the Unit Titles (Management) Act 2011. Is this correct?
Answer: There are three ways to obtain approval for sustainability or utility infrastructure from an owners corporation.
On the face of it, there is nothing stopping someone adding solar panels to their B class roof.
However, other considerations might affect this right (eg the existence of rules affecting this right, whether any wiring passes through common property, etc). In order to give definitive advice, I'd need to look at the rules, see some photos / drawings, etc. I'd need to charge for that work.
Please note this extract on solar panel installation from my book. Details of the text and where to get a copy are listed below:
3.31 Solar Panels
There are three ways in which the installation of solar panels might be approved by an owners corporation.
The first and most effective way is pursuant to section 23 of the UTMA. Section 23 provides that an owners corporation may, by ordinary resolution, approve the installation of a sustainability or utility infrastructure (which includes solar panels) on common property.
Secondly and thirdly, a lot owner can seek approval for the installation of solar panels via either (note both of these paths will require unopposed resolutions):
section 22 for a special privilege right (plus a special resolution to amend the owners corporation rules under section 108 of the UTMA if you wish to register the special privilege right as a rule); or
under default rule 4 to make an addition or alteration to the common property.
The owners corporation may wish to put conditions on the special privilege right such as the provision of:
plans and drawings
specification of the method of installation, and
a clear description of the location of panels.
Other conditions can include assigning responsibility for the repair and maintenance of the solar panels to the unit owner and liability for any damage or loss caused by the solar panels being installed.
This post appears in Strata News #308.
Have a question about the installation of solar panels in ACT or something to add to the article? Leave a comment below.
Read next:
Christopher Kerin
Kerin Benson Lawyers
P: 02 8706 7060
E: [email protected]
This article is not intended to be personal advice and you should not rely on it as a substitute for any form of advice.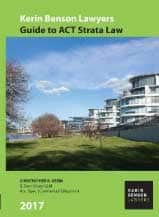 After more detailed information dealing with Strata Law in the ACT? Chris Kerin's Guide to ACT Strata Law is now available.
Visit Strata By-Laws and Legislation, Apartment Living Sustainability OR Australian Capital Territory Strata Legislation
After a free PDF of this article? Log into your existing LookUpStrata Account to download the printable file. Not a member? Simple – join for free on our Registration page.